Poultry Project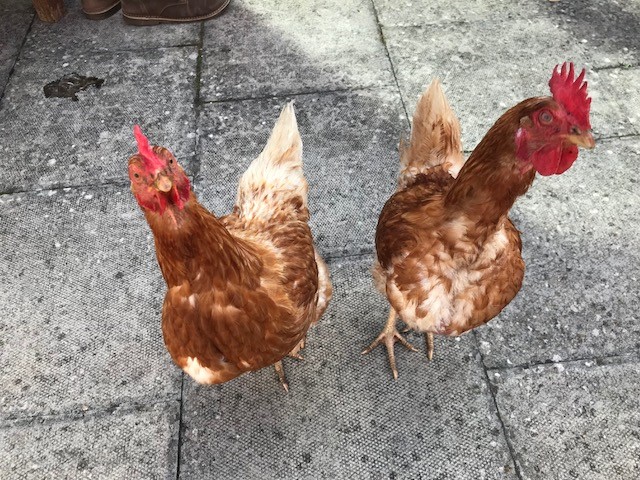 At Southfield, we feel very lucky to have some really good spaces that we can use for developing different aspects of learning and teaching. We think this is something quite special that we can offer the children and families who attend our school.
In September 2018, Mrs. Richardson, a qualified teacher who recently retired from teaching permanently at Southfield, helped us to create a safe and welcoming chicken run in one of our outdoor courtyards. We have an Omlet UK chicken coop and a very large barked area for the chickens to explore free-range.
We believe that this poultry project will offer a different slant to learning at Southfield. The children will be able to:
observe the chickens from a safe viewing area, taking time to watch, observe and sketch
check on and feel responsible for monitoring the chicken's health and wellbeing
feed the chickens, with adult supervision
watch the chickens and learn about these fascinating animals in a real-life setting
learn about animal nutrition and care
learn about how the hens lay their eggs
use the chickens' eggs for cookery, under supervision and with permission
We also hope that one day, we'll incubate some eggs to see if we can hatch our own baby chicks.
Risk Assessment
Of course, the learning and fun are top priorities, but so is the health and safety of the children in our care.
Please click this link to see our risk assessment for the poultry project.
In addition to the risk assessment, Mrs. Richardson has written to all parents/carers to seek their written permission for their children to access the chicken's coop and free-range area under close supervision. Children who do not have written permission from a parent/carer will be able to view the chickens only from the viewing area.
Adopting a Rooster
Recently (March 2019), we were visited by Helen, from the local charity Big Red Rooster.
Helen talked to the children about roosters and the opportunity families of Southfield can have to 'adopt' one (or more!) for a year.
Please click this link to read and enjoy the presentation.
If you'd like to find out more about adopting a rooster, please speak to your parent/carer first and ask them to contact Clare Brewster on clarebst@hotmail.com. Clare will send you information about the roosters and will give to you the details you need to contact the charity.
You can click here to access Big Red Rooster's website. Please note, you will be taken to an external page which is not owned or managed by Southfield Junior School and we cannot take any responsibility for the content displayed.