Wiltshire Air Ambulance Visit
An article written by Miss Howes and Miss Alder, class teachers.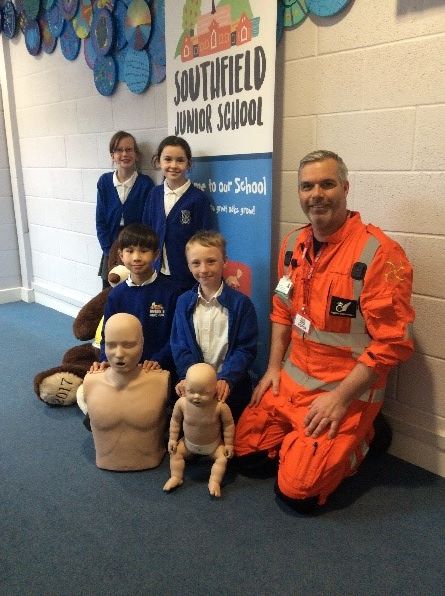 Southfield Junior School welcomed Simon from Wiltshire Air Ambulance at the beginning of this term. The focus of the experience was to introduce the children to the hands only CPR method. With the aid of the resuscitation dummies, the children were able to apply the method and experience first-hand what it would be like to perform this life-saving method. Although it was tiring, the children gave their all to the task and proved to be potential life-savers in the making! The children were also shown how to perform CPR on a baby and were surprised to find that the method is identical apart from how much pressure is needed. Simon showed them two methods which the children then practised. "It was interesting to find the right place to complete the compressions and to use a different method to complete the method on a baby," comments Freddie from Year 6.
An additional focus for the upper school was how to respond to somebody who is choking. The children listened carefully to each step, understanding how vitally important it is to check first when something is choking or if they just have a tickly cough. They were then shown the correct procedures to use. Due to the nature of this focus, they were unable to practise the method however, we as teachers feel confident that they are secure in knowing what they would have to do. "It was very informative, Simon showed great respect for what we knew and helped us to understand the correct methods to use," comments Lyla from Year 6.
Simon showed the children the high-tech equipment that the Wiltshire Air Ambulance operates as well as the facilities that they have – the children were particularly impressed with the underfloor heating for the heli-pad! Whilst these pieces of technology amazed the children, they were shocked to discover that the Wiltshire Air Ambulance relies solely on donations to keep them operating. Therefore, Southfield Junior School will be hosting a fundraising event later this term in order to raise money for this life-saving cause. Watch this space for more!