Year 5
So far this year, the children in Year 5 have been practising a variety of computing skills. These range from using video editing software, to creating animations, to conducting research and presenting it using PowerPoint and have also continued to develop their coding skills and awareness of e-safety.
Earth and Space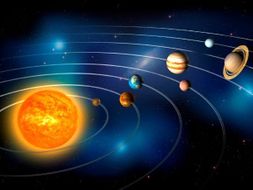 At the beginning of the year, the children engaged in an 'Earth and Space' topic. During their weekly ICT lessons, they researched what it was like to be in a space station. Using this research, the children paired up to create and record an interview- 'From Earth to Space.' They then uploaded their interviews into a video editing software to create their final piece.
The Water Cycle
The children have also had the opportunity this year to create animations using the 'Stop Go Animation' software. In their 'Water Cycle' topic in ICT, they developed backgrounds and characters to explain the process of the water cycle and filmed it in groups. They then uploaded their videos to a video editor and added moving titles, credits, sound and music.
The Ancient Greeks
During our 'Ancient Greeks' topic, the children spent their weekly computing lessons focussing on Greek Gods and Goddesses. They used their researching skills to find out about the Gods and then presented this on a well-thought out PowerPoint presentation or word document. See below for some excellent examples of the work that the children produced.
In our English lessons during this topic, the children wrote a news report based on the Greek Olympics. Once completed, they used their computing skills to record their reports up against our 'green screen.'
E-safety and Coding
Each term, the children continue their e-safety learning and continue to develop their coding skills using 'Scratch Desktop.'
See below for some of the work that the children completed on tips for how to stay safe online, the dangers of editing images and the importance of creating strong passwords.