Year 5
E-Safety - Spam
The children started the year by learning all about Spam emails, how to identify them and how to avoid them. They also learned what to do if they accidentally opened one and never to be afraid to tell a trusted adult if they had done so. The children typed up some fantastic posters with great advice for others.
Digital Science - Systems and searching
In this unit the children are being taught how to recognise IT systems around us and how they allow us to search the internet.
We used scratch to help understand how Input - Process and Output works. They children developed a concept for a bear that when the button was pressed (input) they wrote an algorithm to make the bear do something (process). Once the process had been activated, the bear speaks, or dances or both! (output). The children had a lot of fun with this and it helped to aid their understanding.
This was a fantastic example by Olivia, which now has sound. Please listen and enjoy!
/i/video/Oliva.mp4
We have been learning how larger computer systems work and how they can help us. This replicates a trip to Argos.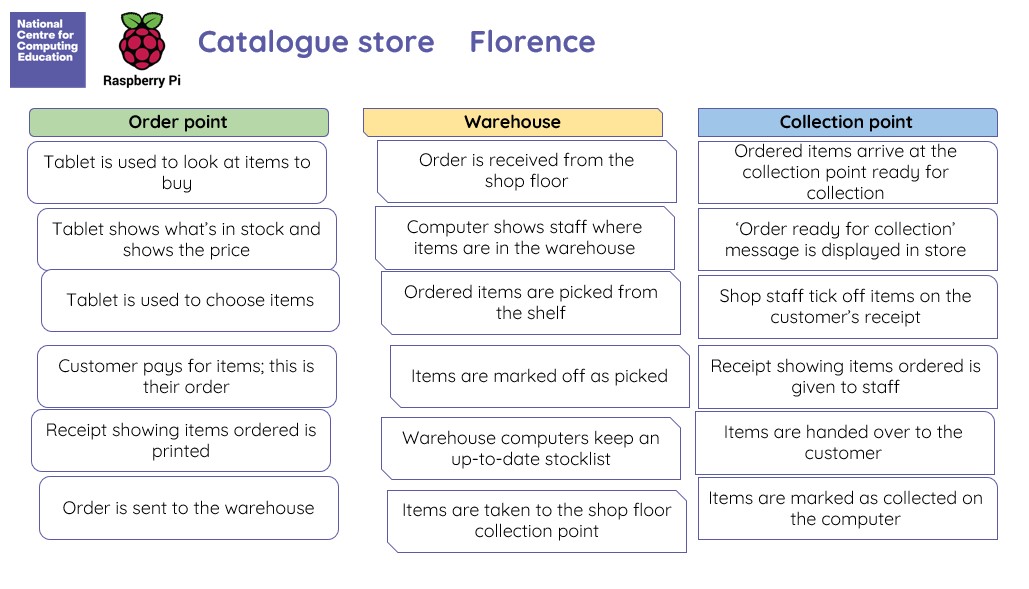 We also looked at sensors and how they help us. We specifically looked at crossing the road using a different types of traffic lights.
Finally we used sensors in Scratch to write algorithms to make the sprite change colour when it touched the edge. Luckily for you, you can't hear the sound it is making! Well done Canon.
/i/video/Scratch_Sensing.mp4
The children this week have been looking at a range of search engines. They were given the opportunity to explain how to search and test instructions. They also learned that searches do not always give the results that they were looking for. They refined their searches accordingly.
They even discovered that on one website (Ecosia.org) a tree is planted every time someone uses the search bar.
This week we have been gaining an understanding of why search engines are necessary to help find things on the World Wide Web. The children conducted their own searches and broke down the steps needed to find things on the web. They looked at how we use indexes in books to find information quickly and created an index of items in the ICT suite. Then we looked at why some searches return more results than others. We learned that Web Crawlers create an index of webpages.
The children created a paper-based webpage in groups of 3. They learnt how a webpages' content can influence where it is ranked in search results. We gave points for different areas of their webpage and they discovered where it would rank when searching for keywords relating to their content.