Computing at southfield
At Southfield Junior School, we are exceptionally fortunate to be able to provide all children and classes with weekly computing lessons delivered by Mrs Law, our ICT specialist.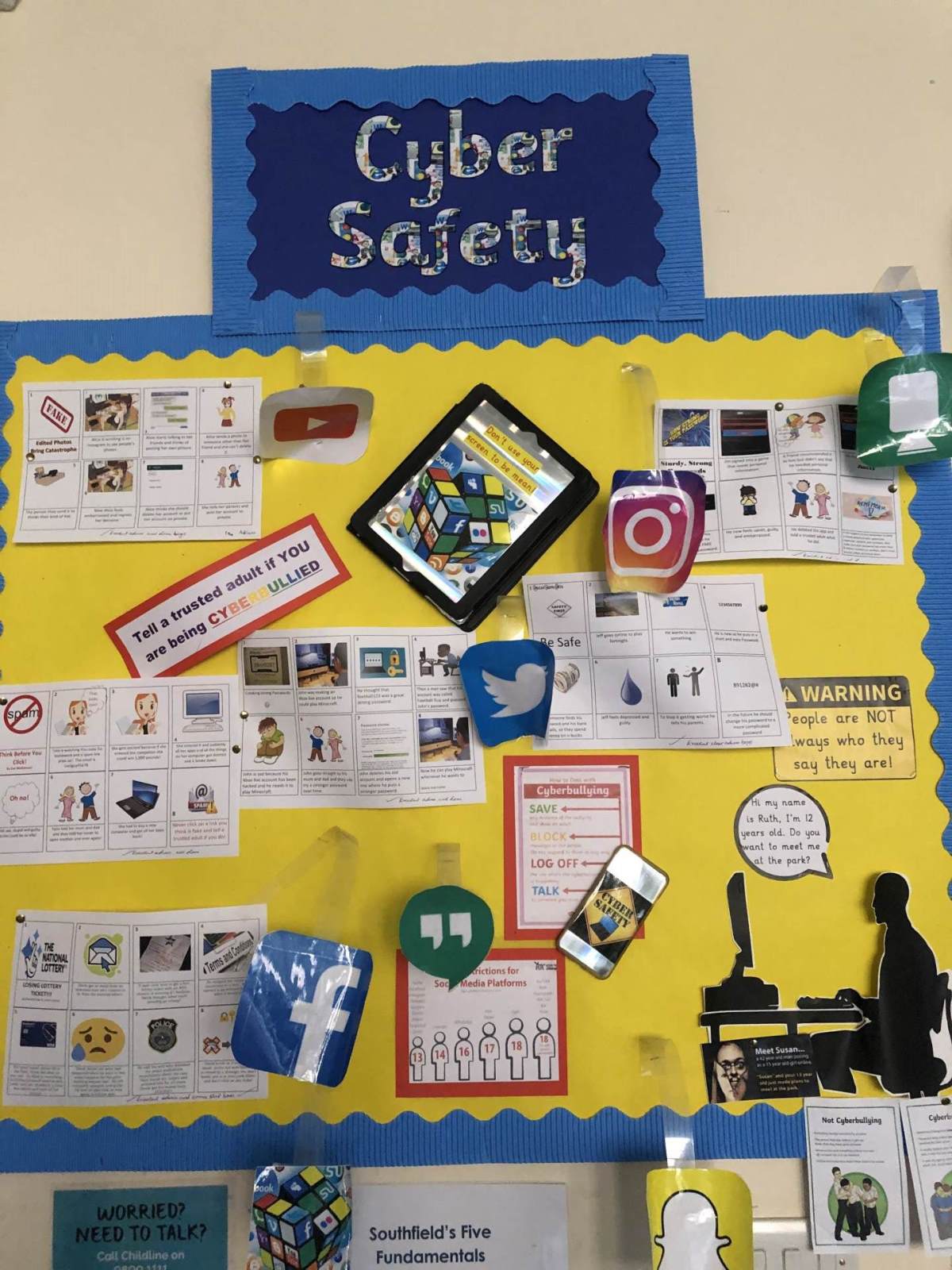 For more information on on what our children are creating in ICT lessons, please visit: Learning/Computing in the home screen.
Computing Intent
Computing is now an essential part of our daily life and will continue to play an even bigger part in our children's futures. With the use of different programs and software, Southfield Junior School provides our children with the skills, creativity and enthusiasm which will enable them to flourish in a world progressively reliant on computing.
Every child will be able to use the Internet in a safe and respectful way. Using Digital Life Skills, they will learn to be Sharp, Alert, Secure, Kind and Brave. These skills will enable them to take the necessary precautions to stay safe and to know where and when to seek help. Children will also use the Internet efficiently to enrich their learning of all subjects.
Aims
· To have fun using IT and attempt all applications with confidence and a sense of achievement.
· To develop everyday skills in the use of information technology and the ability to apply these skills to the solving of relevant and meaningful problems.
· To understand the wide capabilities of IT and the possible consequences of its use. (To be kind and safe when using the internet.)
· To use IT safely and be able to adapt easily to different systems and software that they will access in the future.
· To understand and apply essential principles and concepts of computer science including logic, algorithms and data handling.
· To analyse problems and have experience of writing and debugging algorithms in order to solve problems.
· To use IT across the curriculum to support and enhance their learning.
Computing Implementation
At Southfield Junior School, the children have access to the computing suite, two class sets of iPads and a set of Microsoft Office tablets. This ensures that all year groups have the opportunity to use a wide range of devices and programs for many purposes across the whole curriculum. As well as their weekly discrete computing lessons, skills are taught cross-circularly, supporting other areas of learning across the school. Our children extend their use of computing for communication, investigation and programming and work to understand how to communicate safely.
The implementation of the curriculum also ensures a balanced coverage of computer science, information technology and digital literacy which includes online safety covering a range of issues including current issues such as 'fake news' and 'body image'.
The children will have experiences of all three strands in each year group, but the subject knowledge becomes increasingly specific and in depth, with more complex skills being taught, thus ensuring that learning is progressive.
In coding the children will learn what algorithms are, by designing and writing programs using sequence, selection, and repetition. They will also learn how to correct errors in algorithms by debugging programs.
Children will be taught to understand computer networks, including the internet, and the opportunities they offer for communication and collaboration. They will use search technologies effectively, and will be taught to select, use and combine a variety of software on a range of digital devices to create a range of programs, systems and content accordingly. They will use technology safely, respectfully, and responsibly and be able to recognise acceptable/unacceptable behaviour. Children will know how to identify a range of ways to report concerns about inappropriate content and contact.
Computing Impact
Impact
After the implementation of our dynamic computing curriculum, children at Southfield Junior School will be digitally literate in a world progressively reliant on computing. They will be equipped, not only with the skills and knowledge to use technology effectively and for their own benefit, but more importantly – safely. The biggest impact we want on our children is that they understand how to keep themselves and others safe online.
As children become more confident in their abilities in Computing, they will become more independent and key life skills such as problem-solving, logical thinking and self-evaluation will become second nature.
Our approach to the curriculum using a wide range of devices, applications results in a fun, engaging, and high-quality computing education. This will ensure that they become diligent learners who value online safety and respect when communicating with one another.
The quality of children's learning is evident through their work produced on various devices and applications which are stored within their unique digital folders. Pupils can share and evaluate their own work, as well as that of their peers using shared storage.
Through continual assessment of their work, teachers will plan for and support any knowledge gaps in the Computing curriculum. This supports and ensures all pupils make good progress.
Much of the subject-specific knowledge developed in our Computing lessons equip pupils with experiences which will benefit them in secondary school, further education and future workplaces. From research methods, use of presentation, creative tools and critical thinking, computing at Southfield Junior School gives children the building blocks that enable them to pursue a wide range of interests ready for the next stage of their lives.
If you were to walk into a Computing lesson at Southfield Junior School, you should be able to see:
Proficient users of technology who can work both independently and collaboratively.
Computing hardware and software being utilised to enhance the learning outcomes of our children, across the curriculum.
Clear progression in technical skills.
A learning buzz as children engage in programming, instruct floor robots, prepare online safety presentations and create amazing animations.