P.S.H.E AT SOUTHFIELD
Personal, Social and Health Education
PSHE Intent
At Southfield, PSHE is at the heart of our school ethos, we believe that personal, social and health education (PSHE) enables our children to become healthy, safe, independent, and responsible members of society.
We support and motivate children to become resilient; to recognise their own worth; develop social skills and equip them with the values and skills to thrive as individuals, both now and in the future.
At Southfield, PSHE is taught throughout the school in such a way as to reflect the overall aims, values, and ethos of the school. It aims to help them understand how they are developing personally and socially, and tackles many of the moral, social and cultural issues that are part of growing up.
PSHE Implementation
At Southfield, we encourage our children to take part in a range of practical roles and activities that promote active citizenship: Peer Supporter, School pastoral support, road safety, class and whole school fundraising, reading buddies and engagement in school and local events. Children have opportunities to meet and work with members of the community, such as: health workers, Wiltshire air ambulance, firefighters, police officers, swimming lessons, librarians, sports coaches, primary future and representatives from the local church. We participate in, and promote National events such as: Children in Need, Red Nose day, Anti-Bullying Week and Road Safety Week.
We are committed to supporting the mental health and wellbeing of all pupils at Southfield Junior school and take part in Children's Mental Health Week each year.
We are very lucky to be supported in school by our mental health and wellbeing leader and have ELSA trained staff members. Tailored, pastoral intervention is available for children who have been referred by the school or parents. These children are supported through weekly 1:1 or small group sessions with the mental health and wellbeing leader. Children also have access to the 'inclusion room' – a safe space to talk through their worries about school, friendships, family, or significant events such as bereavement or parents separating.
PSHE is taught as both explicit lessons, using the JIGSAW scheme of work; but it is also embedded in other areas of the curriculum and day-to-day life of the school so that we can best meet the children's needs. Each half term has a unit theme: being me in my world, celebrating differences, dreams and goals, healthy me, relationships and changing me (Relationships and sex education). These are taught to an appropriate level depending on the age of the children. These units are linked to safeguarding, the school values, British values, rights and responsibilities, and Growth Mind-sets so that the children have depth and breadth within this area of the curriculum.
PSHE Impact
By the end of their PSHE journey at Southfield, our children will be confident, open-minded and well-rounded members of society. They will be safe and happy so they can excel in all aspects of school life. Our children will have had the chance to reflect and learn about these crucial elements.
Our school has established and maintained a positive learning environment where the children have positive relationships with their peers and teachers. Our children and staff value well-being, mental health and good citizenship, through our curriculum, children have approached a range of life situations and applied their skills and attributes. Our children are prepared for the next stage in their education and for the adult world.
PSHE plays a vital part of primary education and as well as discrete focused lessons, it is also embedded throughout our curriculum. We believe that the purpose of PSHE education is to build, where appropriate, on the statutory guidance outlined in the Relationships Education, Relationships and Sex Education (RSE) and Health Education.
With weekly assemblies, PSHE remains a constant and relevant part of each child's education. Children's spiritual, moral, social and cultural curiosity has been stimulated, challenged and nurtured.
Jigsaw - The mindful approach to PSHE
At Southfield, we are proud to teach Jigsaw PSHE. Jigsaw is a mindful and child centred approach to PSHE. It is an original and comprehensive scheme of learning, which integrates personal, social, health and economic education with emphasis on emotional literacy, mental health and SMSC, especially spiritual development.
Jigsaw aims to help children know and value who they really are and how they relate to other people in this ever-changing world.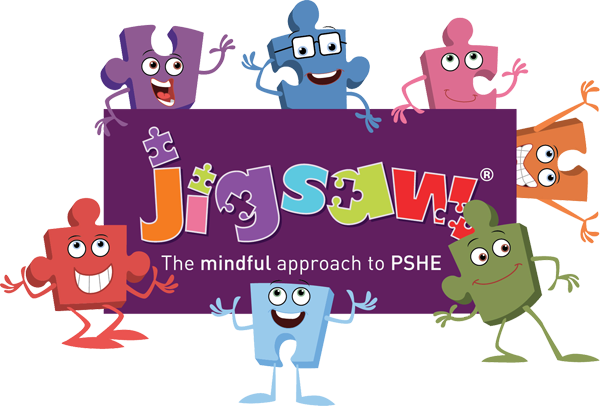 Background Information
Please click this link to read a quick guide for parents and carers about Jigsaw PSHE.
Please click this link to read the Jigsaw SRE information for parents.
Jigsaw PSHE Curriculum Overview (by year group)
Year 3
Please click here to see the Year 3 overview.
Year 4
Please click here to see the Year 4 overview.
Year 5
Please click here to see the Year 5 overview.
Year 6
Please click here to see the Year 6 overview.
British Values
Jigsaw PSHE helps promote the fundamental British values of democracy, the rule of law, individual liberty and mutual respect and tolerance of those with different faiths and beliefs.
Please click this link to read about the British values in Jigsaw by puzzle and year group.