Reading AT SOUTHFIELD
At Southfield we want all of our children to develop a love of reading to support their successes as we believe that learning to read and reading for pleasure transforms and enriches children's lives. Reading is a pivotal part of our curriculum and is an intrinsic part of our teaching and learning at our school.
Read Write Inc. Phonics
Phonics is a way of teaching children how to read. It helps children hear, identify and use different sounds that distinguish one word from another in the English language. The children who are on our Read Write Inc phonics program will be assessed regularly based on accuracy and fluency, and assigned a Read Write Inc colour text. This intervention will be based around a ditty or Read Write Inc text. These texts will then go home to provide additional opportunities for children to re-read the text and over learn it to develop fluency.
Reading Sessions
Drop Everything And Read - DEAR
Reading is a high priority in our school and we take pleasure from reading each day. During our Drop Everything and Read sessions you may see children completing independent reading for pleasure, sharing a book with a teacher / friend or in a small group reading sessions.
Daily Read Sessions
Daily Read Sessions include small group work with the class teacher and involve the children focussing on a specific reading comprehension skill using a picture book and questions generated by the teacher. The children answer questions and share their thoughts verbally, all of which is recorded using technology. Alongside this, the LSA for the class/year group takes a small group and reads to them from a pre-selected, high-quality text. The aim of these sessions is to develop children's vocabulary and provide opportunities for them to discuss the book and concepts within in a small group instead of as a whole class.
Reading Comprehension
When teaching reading comprehension skills specifically, we teach six sessions which are skills focussed and two sessions where the children have a new text to read and apply the skills that they have been practising. Teachers follow the reading skill outline (see below) to inform their planning for skills and use topic-related, high-quality texts where possible. Resources such as Literacy Shed+, Comprehension Ninja and Testbase can also be utitlised to provide extracts and questions.
Our wonderful library
Our excellent PTA raised £7000 to go towards the refurbishment of the new library - just look at the brilliant results! The children are able to use the library throughout the school day, at lunchtimes and we are just about to open it after school for two afternoons a week. Our Year 6 Librarians work hard to keep it well organised and our super Learning Support Assistants are enthusiastic about making the library a place where everyone wants to go.
Our Reading Areas
At Southfield every classroom has a reading area that is used differently across the school but has well matched books for your children. For our youngest children these are areas where children will select a book and read within the inviting, comfortable area. Moving up the school these are areas for children to see a range of chapter books that are specifically selected to engage and entice children.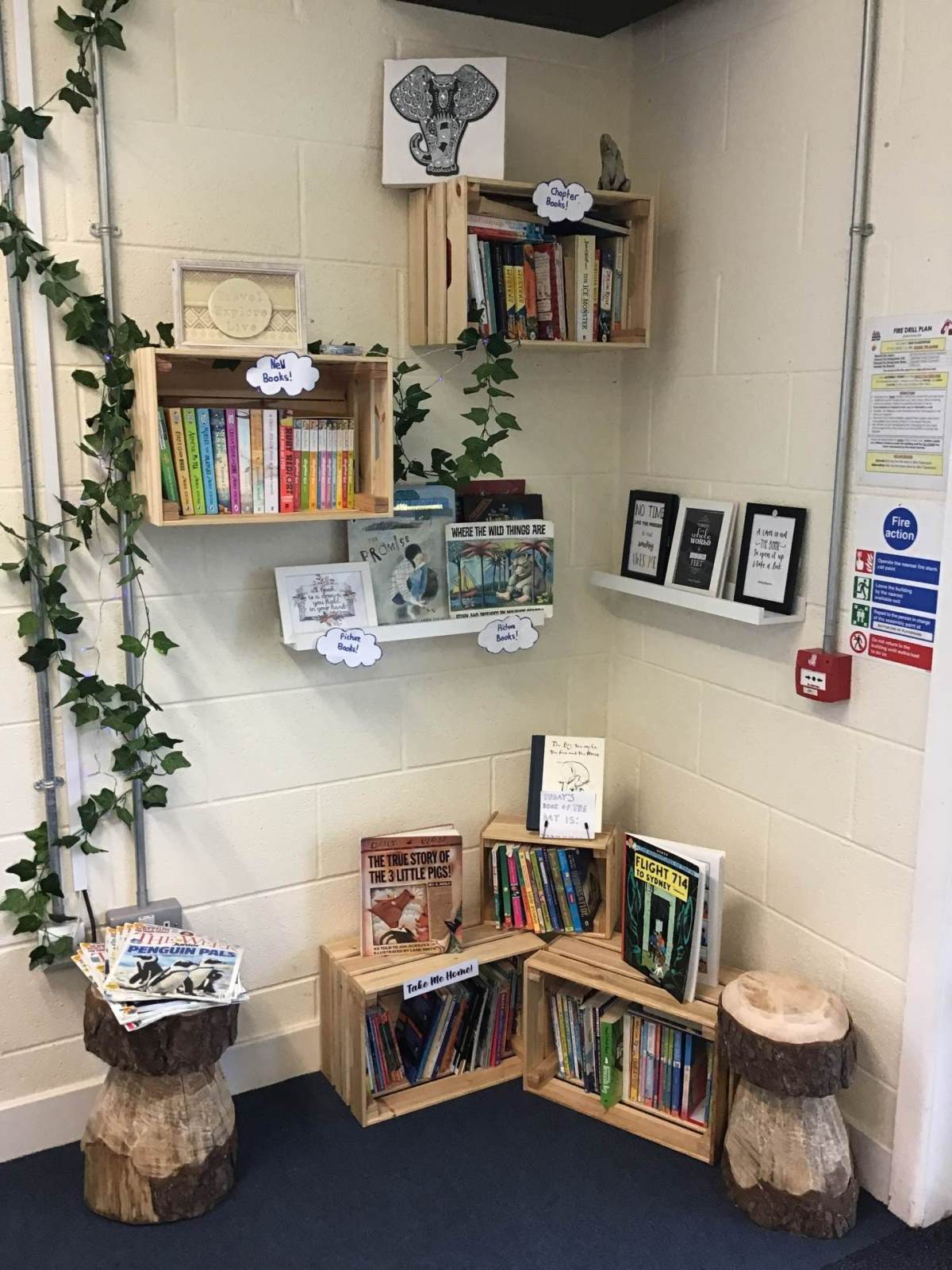 Reading at home
Step into a world of imagination and pick up a book! Whether that be a new novel, a favourite that has been read many times, a comic book, a treasury of poems or a non-fiction book, reading has the ability to enable us to escape when we have to stay where we are.
To gain more from your child's reading, here are 5 useful top tips that can be tried alongside our reading VIPERS:
Explore it – read a section from a book together and think and ask questions about the following:

Think about how it is written. What parts of this really stick in your mind? Which words and phrases do you like the best? What do you like about them? Do they look or sound interesting? Do they help you make a picture in your mind?
What is happening in the extract? Who are the central characters? Can you summarise what you've read in a couple of sentences?

Illustrate it – Create an illustration to represent the passage that has been read. If it is a picture book, what section of the text has the illustrator focused on? Is there another section that can be illustrated?
Talk about it – Use questioning about the characters, setting and key events to secure your child's understanding of the text. For example,…

How has the character been described? Would you use the same words to describe them or would you use different words? Why would you change them?
How has the setting been described? How does this help you to imagine the scene facing the characters?
If you were going to describe a character or setting from your life, would you magpie some of these ideas? Why might you choose them or others?

Imagine it – Ask questions that will deepen your child's responses to the text, encouraging them to think beyond the words on the page and link it to their own knowledge.

When do you think your book is set in time? How do you know this?
Where do you think your book is set? How do you know?
What might happen next? Can you make a prediction?

Create it – Take an aspect that you know about the book, for example the location, and use this for creative activities. For example,

If the book is in a certain place, can your child create a visitor's guide?
Choosing a word or phrase from the book, from this can your child write a different story with this as their starting point?
Can your child recreate the scene in the book using junk modelling materials?
Encouraging a Love of Reading at Home
For more exciting activities to promote a love of reading at home, try these fantastic suggestions on the following link: